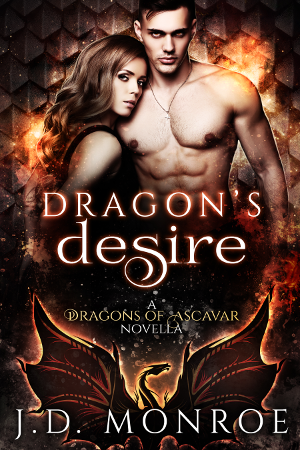 Sparks will fly when two powerful dragon shifters fight for the affections of a human woman.
Like his older brothers before him, dragon shifter Pahlin Stormcaller is undertaking the Wandering, a seven-year journey into the human world to find himself before taking his rightful place in dragon society. Life in the human world isn't what he expected, and Pahlin finds himself earning a meager living by fighting – and losing – in a fight club for shapeshifters. But when he meets headstrong bartender Violet, his luck turns around.
Violet Ray isn't sure what to think of the sudden influx of muscle-bound hotties in her bar, but she's not complaining about the scenery. When one of them threatens her and her employees, she's ready to do what it takes to protect herself. But nothing prepared her to discover magic was real, or for the cutie at the bar to turn into a dragon to defend her.
Can she trust this man who is far more than he seems, or is his magic too dangerous to risk her heart?
"Awesome quick read! The explanation of dragons and why they come to the human realm was very original. I could not put this one down once I started it."
"Engaging characters and action with sexy dragon shifters from another realm."