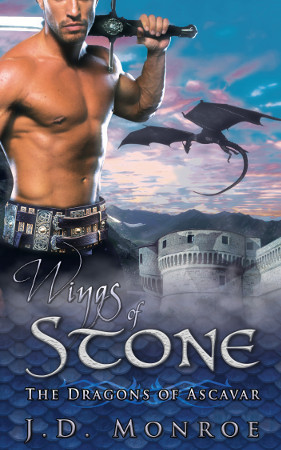 Wings of Stone
The Dragons of Ascavar are among us. 
As a guardian of the portal between the human world and his home, dragon shifter Tarek Windstriker avoids unnecessary interaction with humans. But when the princess of his people is brutally attacked and left for dead in a human hospital, he must intervene. He just wasn't prepared for a gorgeous human doctor to defy his formidable will. And he certainly wasn't prepared to need her help.
Doctor Gabrielle Rojas is a practical woman, so the last thing she expects is to meet a dragon while working the night shift. But after watching the sexy stranger turn into a dragon and fly away with one of her patients, she can't deny what she's seen. When she answers Tarek's call for help, she is drawn into his dangerous world of dragons and magic.
Desperate to outrun a mysterious enemy and return the princess to the safety of her homeland, Tarek and Gabrielle soon find their fates entwined. Can two souls from different worlds find love, or will they be torn apart?
"I thoroughly enjoyed this book. The characters personalities were very compelling – strong and vulnerable, real and magical. Wonderful balance. Can't wait for the next release."
Kim, Amazon reviewer
"I absolutely loved this! Tarek and Gabrielle together are amazing with so much chemistry. The plot, the action, the romance, the world building was unbelievable. I'm looking forward to the next installment!"
Shakera, Amazon reviewer
"The romantic tension is exquisitely written and the intimate scenes are tastefully done. The action sequences are intense and the descriptions are breathtaking. I loved the detail of the dragons! I felt like I was feeling, seeing, and experiencing things right along with the characters. This book is beautifully written."
Shalina, Amazon reviewer
She'd been in the middle of tying off Cody Brown's stitches when she'd finally accepted that she'd hallucinated about being a dragon. Not just seeing one, but being a damn dragon, complete with wings and scales and claws. What the hell was that all about?...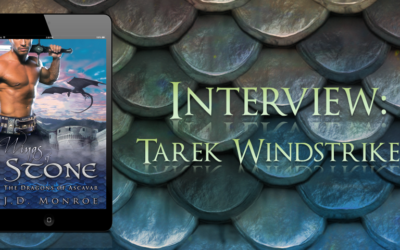 Did you love Wings of Stone? Want to get to know the quiet but ferocious Tarek Windstriker a little better? Tune in for this interview!